5 Hacks For Flying With a Toddler
Nov 08, 2022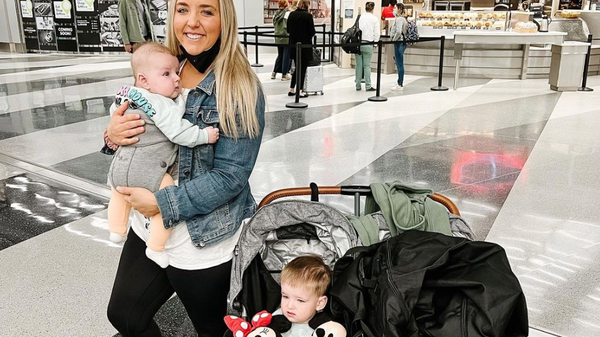 So you got your vacation approved. Phew! Now you're wondering — how do I travel with a toddler? If the thought of being trapped in a flying tube with a potentially crying kiddo is making you nervous — let me first say: you're not alone. BUT, we can also say we've got you covered! Here are five tips to make flying with a toddler much easier.
1. Bring along some new toys
Look, we're not suggesting that buying a new toy for every occasion is always the answer to your problems, but in this case — it may very well be! No need to invest in anything fancy (think: dollar store), but by stocking up on a few new toys, treats, or games, you may be doing your future self a favor. Call on your secret stash when you feel like a little novelty could keep the peace.
Pro tip: wrap each gift for added surprise and excitement 
2. Book early morning or late night flights
It's no secret that wake up calls before the sun even gets up are not ideal. However, early flights could be a smart move when traveling with toddlers. Have everything ready to go the night before your trip, so you can seamlessly transport your sleepy kiddo to the car and get a bit more shuteye on the way to your destination. If your kids are already used to sleeping at the time, it shouldn't be too much of a jump for them to continue on in dreamland. Plus, arriving at the airport early in the morning often means less crowds and less chaos to power through. Alternatively, if you've got a pretty good sleeper on your hands and adjusting timezones, late night flights they can sleep though makes time fly for parents.
Pro tip: consider aisle or window seat based on your kiddos age/activity level. If you've got a walker, the aisle seat may help you get some energy out walking laps. Want to contain your baby more? Try the window seat!
 3. Communicate beforehand
Before you set off on your adventure, have a conversation with your kiddo about what to expect. You've probably chatted about all the fun things you'll do once on vacation, but you might not have had any conversations about the "getting there." Explain how the travel will go in very simple terms, and make sure that you answer any questions. By prepping your kiddo beforehand, you'll have more tools to call on in the moment to settle any that any chaos arises.
Pro tip: For longer travel days, create a small paper chain countdowns for every hour (30 minutes?) of your trip so they can have some fun along the way.
 4. Pack the right stroller
We have a couple we think you'll love (shocker). The Tour+ and the Twin+ are perfect travel companions, because they fit neatly and easily into the overhead storage of a plane. Easy peasy. But really, when traveling with littles, the last thing you need is to be weighed down by all your gear. By bringing along the right stroller, you have one less problem to deal with.
Pro tip: Pack your Stroller Carrying Straps for hands free travel.
 5. Relax on screen time
Your parent-of-the-year nomination won't be revoked if you let the screen time go a little longer on flights. You can exhale. Make sure your devices are fully charged and ready to go with some pre-downloaded videos of your kid's favorite shows or movies. Sometimes, it's the easiest way to give yourself (and your fellow passengers) a break, and remember, it's vacation for your kids too! They also deserve to break a couple rules.
Pro tip: Don't forget your Entertainment Holder aka the perfect accessory to store small tablets, smartphones so you can keep your kiddos happy and entertained during long travel days.
Traveling with infants, too? Head to the blog for even more tips.