Strollin with Krys and Maddy of @bambinadiaries
Jun 24, 2021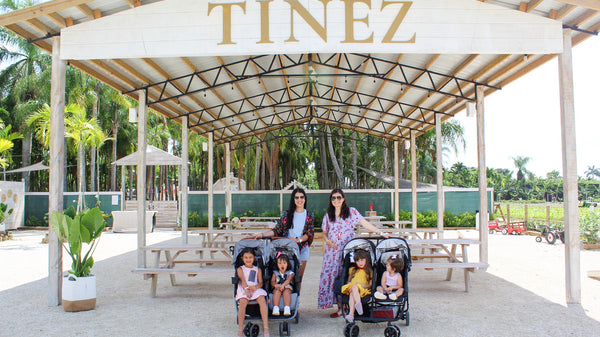 See #parentlife in action from the SWEET times, messy moments and everything in between. Come join us on this ride! We're in it with ya- you got this.
This week we're strollin with our sweet friends Krys and Maddy of the Bambina Diaries - two all-star BFF mamas who share the honest truth of motherhood and remind us that we are all in this parent life together! Check out how Krys and Maddy put their Twin Double Strollers to the test as they stroll through their week. Oh and don't forget to follow along with them for all of the fun and laughter - we promise it will be worth it! 
SUNDAY
"The perfect afternoon for  gelato with the best seat in the house. Our Twin+ stroller adjustable seating lets both girls sit upright to enjoy a special treat!"
MONDAY
"A sunny afternoon stroll is made easy with our Twin + stroller, thanks to the four panel expandable canopy with UPF 50+ lining."
TUESDAY
"Shopping with both kids is never easy but now it's a breeze. Going through standard doors and small walkways is no longer a problem thanks to my
Twin+ stroller.
"
 WEDNESDAY
"Exploring new places with the girls is one of our favorite things to do! Thankfully our Twin+ strollers are lightweight and easy to maneuver, so both girls can enjoy the ride and everyone has a great time."
THURSDAY
"A weekday adventure to the strawberry fields wouldn't have been possible without our
Twin +
. The ball bearing wheels made it so easy for me to stroll with the girls from gravel, through mulch and finally to the clay fields, without any issues!"
FRIDAY
"A morning filled with fun at the museum, Maddy and I were so grateful for all the extra storage at the bottom of the
Twin+ stroller
. We were able to store sweaters, bags, extra snacks and more!"
SATURDAY
"Waiting for her big sister to get back from riding a rollercoaster, Avery is comfortable thanks to the
Twin+ stroller
adjustable footrest."
The fun doesn't stop there! Don't forget to follow along with Krys and Maddy. as the navigate the exciting motherhood journey with their little bambinas.