5 Tips for Planning and Saving for International Travel
Aug 16, 2021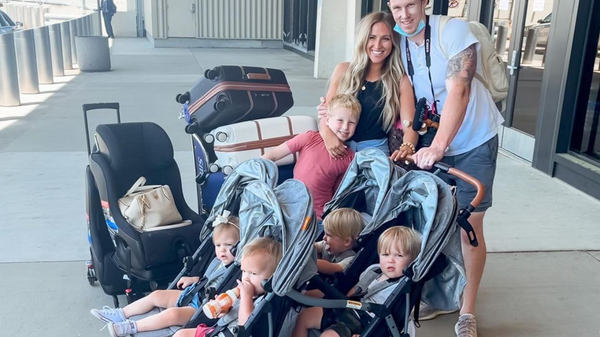 We're guessing you heard the news...Americans are finally allowed back in Europe! As soon as we read the headlines, we started dreaming of eating pasta in Rome and sipping bubbly in front of the Eiffel Tower. Can you blame us? Honestly, you were probably right behind us, packing up your Traveler, ready to go.  Now that international travel is back on the table, you might be wondering how to make it work for you and your family. If you're pinching pennies (euros?) lately, you're not alone, but with these tips, saving on international travel will be a breeze.
GET STRATEGIC
Thinking strategically is key to saving money when you're planning a big trip, especially when it comes to choosing a destination. Choose a place where you can get the most bang for your buck – somewhere full of things that the whole family will enjoy, but don't make you feel guilty for every dollar spent. For example, if you're spending a few days in the city, maybe get out and see the countryside for a bit as well, just to balance out the spending. Or if you're dying to see a city with an expensive food scene, maybe choose a less pricey place to stay.
TRACK FLIGHTS
There's nothing worse than realizing you paid more for something you could have had at a lower price. That's why tracking flights is key! Plan a trip far enough in advance that you can keep an eye on how the fares are fluctuating. We recommend checking out something like hopper or Skyscanner, just to make sure you're getting the best deal. 
CHOOSE ACCOMMODATIONS WISELY
If you've done much traveling, then you know that good accommodations can make or break your trip. Pick a place you'll be comfortable, sure, but it goes beyond that. Say it with us...AMENITIES! Little costs add up, and choosing the right place to stay can eliminate many of them. Look for places with breakfast included, airport transfers, and walkable locations (put that Twin+ to good use!). Even better if they have a kitchen where you can eat some of your meals in. 
GET THE FAMILY INVOLVED
Leading up to a trip, it's important to save, but let's be honest – it's pretty hard too. Get the family involved to make things a little easier! For example, say your family is headed to Italy, and maybe you also have a weekly tradition of eating out on Fridays. Press pause on that habit for a few weeks, and opt for a pasta night at home and have conversations about your upcoming trip instead! Not only will this amp up excitement for the vacation, but it's a fun way of staying accountable to your saving goals.
MAKE AN ITINERARY
Okay this might sound a little dramatic, but those who fail to plan plan to fail. Now we're not saying you need to have things planned down to the minute or anything, but having a rough idea of what you'll be doing and when can allow you to foresee any costs that might otherwise be an unwelcome surprise. If you plan to go to a nice restaurant on Monday, then you can plan to save with a picturesque picnic on Tuesday.

Want some more travel tips? 
Download our packing-list HERE for a fool-proof vacation or explore five of our favorite travel destinations, loved not only by kids, but grown-ups too.
Check out our blog on best tips for traveling with kids!