10 Must Haves For Your Spring Break Packing List
Mar 08, 2022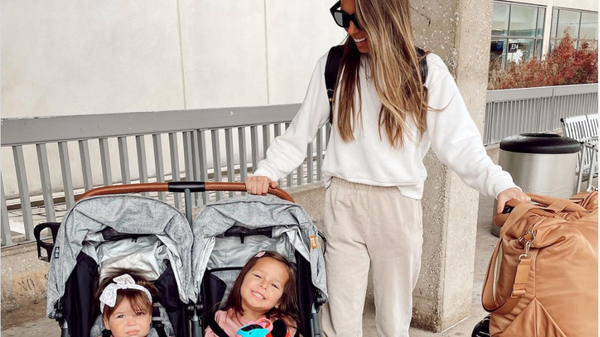 Spring break is almost here! But nobody has been counting down the days, right? For so many families, this is such an amazing time to make memories together and do something a little different from your everyday routine. Whether you're heading somewhere close by or taking things international, here are 10 things you won't want to leave home without.
Reusable water bottles
Hydrate, hydrate, hydrate! Upset stomach? Drink some water. Feeling sluggish? Drink some water. Hot outside? Drink some water. You see where we're going with this, right? Water doesn't solve all problems, but it certainly does solve a lot. Make sure the family is stocked up with reusable water bottles to ensure that hydration is never too far away. Plus, it's much better for the environment (and wallet!) than picking up a new water bottle at every gas station stop.
A travel crib
Trust us, this one is a game changer. The Cloud definitely needs to be on your list of must-haves before you leave town. Allowing your child to sleep in a comfortable, familiar place can work wonders for their sleep. Not to mention, it's compact and easy to set up in any space and will keep your little one safe and contained while you get ready. 
Portable power bank
Devices tend to run out of battery much quicker on trips than they do on an average day at home. Between navigating from place to place and kiddos watching movies on phones (no judgment), battery can plummet pretty quickly, if you're not careful. Make sure to bring along several portable power banks, all charged up and ready to go, so you can avoid running out of juice.
Sound machine
If your kiddos are used to sleeping with white noise, you'll definitely want to bring along a portable sound machine. Not only will this help familiarize an unfamiliar environment, but it will bump up their chances for a good night's sleep, just in case there are any noises that they aren't used to. Bonus benefit: they can drown out the sound of parents staying up and having fun once their kids have gone to bed.
Travel backpack
Between holding kids, snacks, bags, tickets, and everything else, it can really feel like an extra couple of hands could go a long way when you're traveling. That's why you really need to bring along your Travel backpack. You may not be able to grow an extra set of hands on the spot, but this is the next best thing. Carry your stroller on your back, so you don't have to worry about pushing one more thing around.
The Trip
AKA the king of travel strollers. The Trip is convenient, lightweight, and the best stroller to get your kiddo from point A to point B, hassle free. It easily folds up, and it makes your life easier, instead of harder. Oh, and did we mention that it fits in an overhead bin?
Laundry bag
We bet you've been here before. You arrive at a nice hotel room, clean and welcoming. Then, somehow, not even 24 hours have passed, and it looks like a tornado hit it. Usually, a tornado full of dirty clothes. That's why a laundry bag is a must! Keep all your dirty clothes here, so you can stay organized. Plus, it makes packing to go home way easier.
Ear plugs
Even if you aren't a regular ear plug user, odds are, you'll wish you had some at some point on your trip. Whether it's a crying baby on the plane (not yours, of course), a snoring family member, or a bachelorette party as your neighbors – ear plugs to the rescue.
Something new
Fun Spring Break trips often involve a less fun amount of travel. Whether it's by car, train, or plane, you'll probably need a bit of entertainment to get you through…for both you and the kids. That book you've been wanting to read? Bring it along! That toy your kid has been not-so-subtly hinting at? Surprise them with it. New things have a lot of entertainment value, and that's kind of what vacation is about.
Snacks
Do we even have to say it? Snacks are always a good idea. Bringing your own snacks ensures that you'll always have something around that you and your kids like. Plus, it helps curb meltdowns pretty quickly. Added bonus – save a little money by not buying snacks from overpriced tourist traps.
Want some more travel tips? Head to our
blog
!