How to Breeze Through TSA with Kids
Jul 14, 2022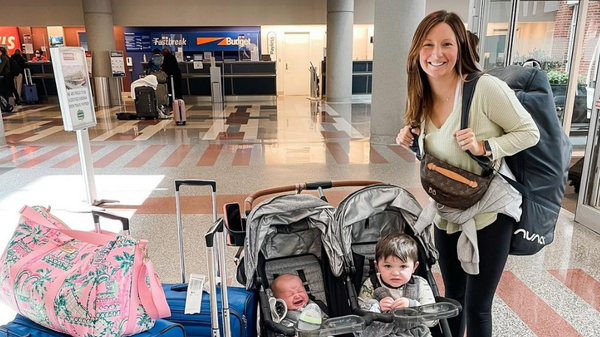 How many times have you been recapping a trip to a friend and mentioned your time in the TSA line as a major highlight? Our guess is probably never. We're not saying we'll convince you that the TSA line is the happiest place on earth or anything, but we do have a couple tips to make it a little less painful to go through, especially when traveling with kids. Are you ready?
Have a gameplan
You've probably heard the old phrase "those who fail to plan plan to fail." The same can be said here. Use your time in line to your advantage! Get the family to take shoes, have IDs and digital tickets cued up, and Make sure everything is in a bag before you get to security. That way, when it's your turn, all you have to do is load each one onto the belt instead of scrambling to gather all the things. Most TSA guards will ask you to pop your kid on your hip and walk through the sensor while they wheel your Zoe stroller around through the wheelchair gate. Just make sure the parent organizer and undercarriage are empty. You'll be making TSA precheck friends in no time ☺ 
Organization is key
We always pack one bag that is solely dedicated to the 'readily available' things. That means diapers, wipes, a changing pad, pre-portioned snack bags, empty water bottles (you can fill them up after security), a couple no-fail toys. I love to stash a few brand new toys/games the kids have never seen before. One for waiting at the gate, one for after boarding time, and one for a little later when the wiggles are hard to resist – window clings or road tape are great for this! If you have a layover, bring a couple of ziplocks with fruitloops and a shoelace/string for each kid. Challenge them to make different patterns as they string their own snack necklace (just tie it up for them when they're done). Pass the time and provide an easy snack, done and done! 
Prep your kids
The airport is stressful enough for the adults who DO know what's going on…just think how stressful it can be for the little ones who don't! Do your best to prepare your kids for what will be going on at the airport, before you get there. You can say things like "when we get to the airport, there will be lots of people, and we will have to wait in lots of lines, but once we get on the airplane, you can play with your toys!" Giving the kiddos some idea of what to expect can be a big help once things start to get hectic.
Think through your carryon
What makes sense to keep with you and what makes sense to check? Our tip? Keep your carryon as minimal as possible, then check the rest. All the things you want to have easily accessible should be there, but everything else just contributes to the noise. Let's be honest – you don't want to dig through five pairs of shoes while searching for your baby's blanket! Here's a tip for breastfeeding mamas: larger quantities of breast milk can't make it through security without being confiscated, but if you freeze it, you are in the clear!
Invest in precheck
Now you have a toolbox to pull from for those crazy times at the airport. But, sometimes the craziness can be avoided altogether! Consider investing in TSA precheck to breeze through those lines in no time. It may be worth it for you and your family! You can also check to see if your airport has a security line specifically for families.
Want more tips for traveling with kids? Visit our blog!