"Why I only bring my Zoe Stroller to Disney" : Disney Guru Puts Zoe Strollers to the Test
Aug 10, 2021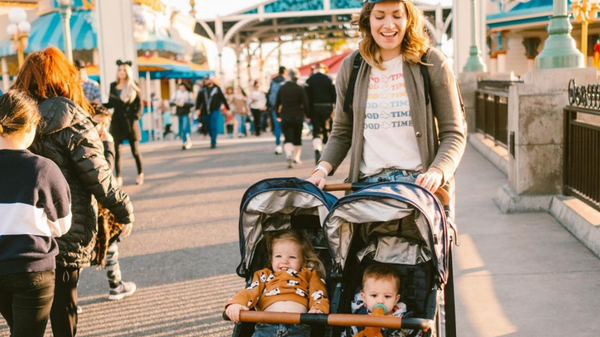 Meet Grace, mama of two, Disney travel agent extraordinaire and our go-to gal for ALL the insider Disney tips over on her blog Only Magical Days. Read how she puts our Twin+ to the ultimate test as she takes on the parks with her two littles in tow. Spoiler alert: she thinks it's the the most magical stroller on earth:)
Your stroller for Disney becomes your traveling home base. It's arguably the most important piece of travel gear you will have when you go anywhere with young children. Not all strollers were made equal when it comes to a week at Disney. So what makes a good travel stroller for Disney? Here are my criteria.
A TRAVEL STROLLER NEEDS TO:
Be easy to maneuver

Have lots of storage space

Be comfortable for napping

Be lightweight and easy to collapse
I began my search for a stroller that was better for traveling and everyday use after using strollers that were too heavy, too hard to collapse when used as a double stroller or didn't allow my child to take a long nap. My OBGYN, who is a twin mom of three, suggested I look into Zoe Strollers. She said that they were the best strollers she has ever used and her recommendation couldn't have been more right. I did my research and I ordered a Zoe Stroller Twin+ Luxe in Navy Blue. I got it a week before I did a solo Disneyland trip with my 9 month old and 2.5 year old. So it was trial by fire! So did it check all the boxes? 
Me with two babies, two carseats, a suitcase and our Zoe Stroller
MANEUVERABILITY
One thing I love about the Zoe Strollers is how easy they are to maneuver. Not only can I steer my double stroller with one hand (which comes in handy when you are pushing a suitcase and carrying car seats) but it can easily pass through standard size doors. People are often shocked when I easily pass through a regular door. The wheels are good for most terrains. The only time I've had a hard time was when pushing it in soft terrains like sand or wood chips - none of which you run into at Disney parks. What makes it perfect for a Disney park day  - it can even handle the dreaded Main Street trolley tracks! No more getting your wheels stuck or almost tipping your stroller over.
STORAGE
The storage underneath is one big basket that spans the width of the stroller. I use a Petunia Picklebottom Mickey Stroller Clip to hang my diaper bag to the handle for easy access. The lap bar is removable and, in its place, you can put two cup holders for each seat and a shared snack cup. The snack cup is a life saver at Disney when your kids need a snack while going from one ride to the next. I also got the Zoe Stroller Parent Organizer to hold a drink or two and my phone or anything you need easy access too. Lots of storage with this one!
NAPPING
The seats lay down to almost flat. They have a slight incline which makes it very comfy for nap time. The best part is that the canopy is huge and makes it super dark. My kids sleep wonderfully in this stroller whether I am moving around or not. In fact, we had one nap time at our hotel when we were in Disneyland and they refused to sleep in their beds. They slept in the stroller in the middle of the hotel room! There are also pockets on the back where you could store a sound machine if your little one needs some white noise to settle down.
LIGHTWEIGHT & EASY TO COLLAPSE
This stroller weighs 16 lbs which is so incredibly light for a double stroller! I can lift this stroller with one arm. You collapse it by pulling two straps located in the crevice of the seats. It folds up easily and can be stored in a travel bag or you can just put it over your shoulder and carry it with the strap that comes with the stroller. It takes SECONDS to collapse and go. No removing wheels or seats like some other strollers I have used.
At Disney, you'll be collapsing your stroller to get on buses or boats. So something that is lightweight and collapses quickly can really help smooth the process over. I really loved that I could leave a few items in the bottom of my stroller like sweaters or the rain cover and it would still collapse easily. I didn't need to fully unpack it to hop on the bus. 
SO, how'd it measure up?
My Zoe Twin+ Luxe Stroller checked all the boxes. It is maneuverable, lightweight and easy to collapse. It has plenty of storage and is great for napping. It will be an invaluable tool for making your Disney vacation a huge success whether you are traveling alone with your kids for a solo park day or on a week long family vacation in Disney World.  
My final thoughts: This stroller is a great investment and I am very happy with how it performs and the customer service that I have received. It also is nice to support a family owned company that is located in the United States. We've had our stroller for a year and it looks almost new even after a few Disney trips, lots of gate checking and even more local outings to the zoo. There are no stains or tears and the handlebar, which often wears the fastest, looks new. I have zero regrets and zero hesitation in recommending this stroller. It's a great stroller for Disney and beyond!
About the Author 

Grace is a mom of two and a travel agent specializing in Disney and Universal Vacations with Believe Vacations. She has a blog called Only Magical Days, where she shares tips and tricks for maneuvering Disney parks whether with kids or without. Grace visits Disney parks regularly and stays up to date on all the new things happening at both Disney World and Disneyland. Follow her on instagram or TikTok for more!